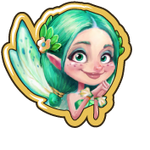 "It's time for our first Fairy Game: Pinata Game! It's only my FAVORITE GAME OF ALL TIME!"
"A Big Bash" is quest 2 out of 7 in the Anything You Can Do questline.
Tasks
Quest Image
Task
Skip

Craft 1 Pinata Game Ticket.

Pinata Game Tickets can be crafted in the Fairy Games Tent.

? Crowns

Play the Pinata Game 2 times.

Spend Pinata Game Tickets on the Pinata Game to play.

? Crowns

Whack a Practice Dummy 3 times to build up muscle!

Buy Practice Dummies in the Market or craft them in the Studio, then click on them to whack.

6 Crowns
Reward
For completing this mission you will get 30 Coins and 1,500 XP. In this goal you get 1 Hyper Craft as a reward.
"WOW! You're a natural at Pinata Game! Isn't it just the greatest thing EVER?!"
Post reward: Wood Club
Ad blocker interference detected!
Wikia is a free-to-use site that makes money from advertising. We have a modified experience for viewers using ad blockers

Wikia is not accessible if you've made further modifications. Remove the custom ad blocker rule(s) and the page will load as expected.