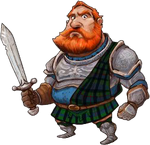 "Could I bother you for a few supplies before I go after Cyril? I must be prepared for anything!"
"A Knightly Journey" is quest 9 of 9 in the From the Knight Sky story line. You get it from Tom after completing the "Knight Woos" quest.
Tasks
Craft 5 Hard Boiled Eggs to provide easy lunches for Tom as he travels.

Craft Hard Boiled Eggs at the Kitchen.

Harvest 20 Carrots for Tom's lunch sack.

Plant and harvest Carrots at Farm Plots.

Purchase 5 Pine Saplings to mark the day that Tom Dropped In.

Get Pine Saplings from the Market.
Reward
"You have been quite generous. I am forever in your debt."
For completing this quest you will get 1 Super Grow,

1,500 Coins and

30 XP. Completing this quest completes the From the Knight Sky story line.

There are Gloom Dragons to be found!
Will Tom finally find Cyril?
Don't count your Chickens until they hatch. Hold off on the count but grab an Egg.
Gallery
Ad blocker interference detected!
Wikia is a free-to-use site that makes money from advertising. We have a modified experience for viewers using ad blockers

Wikia is not accessible if you've made further modifications. Remove the custom ad blocker rule(s) and the page will load as expected.