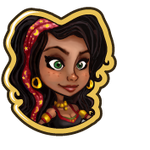 "I'm SO excited about my new ribbon, I can hardly stand it!"
"A New Do" is quest 6 of 6 in the Spa Treatment story line. You get it from Izadora after completing the "Color Blind" quest.
Tasks
Have 5 spools of Cotton Thread to weave a new ribbon.

Cotton Thread can be crafted in the Studio.

Have 5 Bottles of Emerald Dye to make Izzy's ribbon as FABULOUS as she is.

Ask friends for Bottles of Emerald Dye. You can also get this from fishing.

Collect from 15 Buildings in your Kingdom to spread the word of Izzy's new hair piece!

Click on Buildings to collect from them.
Reward
"This ribbon looks GREAT! Don'tcha think? Now I can give my FULL attention back to the Spa!"
For completing this quest you will get

2,500 Coins,

50 XP and 1 Hot Tub. This completes the A New Do mission and completes the Spa Treatment story line.
X is looking for a new do!
Izzy thinks a Beehive would look good, but Yvette thinks X should get a Pixie. What do you think?
Get some Wolf Hair in case this all goes terribly wrong.
Gallery
Ad blocker interference detected!
Wikia is a free-to-use site that makes money from advertising. We have a modified experience for viewers using ad blockers

Wikia is not accessible if you've made further modifications. Remove the custom ad blocker rule(s) and the page will load as expected.