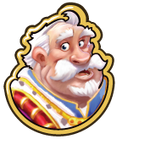 "GEEZERS always worry about the future. Prove to them that you can plan for your financial tomorrow, today."
"A Penny Saved" is quest 1 out of 6 in the GEEZERS Tasks IV questline. You get it from The Duke after completing "A Wolf Pack of One".
Tasks
Have 2 Vaults in your Kingdom so you can store your massive piles of Coins.

Purchase a Vault in the Market.

Pay 250,000 Coins for the official seal of approval

Click on Houses and Royal Buildings to collect Coins.

Have 15 Silver Ore to add to your impressive collection.

Tend Mines and harvest Rocks to find Silver Ore.
Reward
"The GEEZERS could practically go swimming in that sea of Coins! When you talk, people listen."
For completing this quest you will get

1,750 Coins and

35 XP. You can then proceed to the Best Friend's Club quest.
Facebook wall post message goes here
Ad blocker interference detected!
Wikia is a free-to-use site that makes money from advertising. We have a modified experience for viewers using ad blockers

Wikia is not accessible if you've made further modifications. Remove the custom ad blocker rule(s) and the page will load as expected.