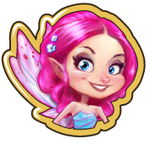 "Sure, a little color is all well and good, but why have a little when you can have a LOT? With that and the Fairy Remedy I'll feel better in no time!"
"A Pixie Pick Me Up!" is quest 2 out of 5 in the
Sylphie Sickness
questline.
Tasks
Quest Image
Task
Skip

Restore Color to 175 items in the Fairy Realm.

Use the Colorize Spell to restore Color.

? Crowns
Reward
For completing this mission you will get 1,750 Coins and 35 XP. In this goal you get 14 Magic Toadstool as a reward.
"Ah! That was just the pick-me-up I needed! My headache is as good as gone!"
Post reward: Berry.
Ad blocker interference detected!
Wikia is a free-to-use site that makes money from advertising. We have a modified experience for viewers using ad blockers

Wikia is not accessible if you've made further modifications. Remove the custom ad blocker rule(s) and the page will load as expected.