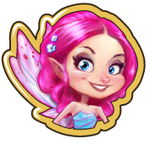 "Blaze is trapped near the magical Dimensional Portal we fairies use to travel to your world. We must free him!"
"A Portal Too Far" is quest 1 out of 12 in the Battle for the Portal story line. You get it from Sylphie.
Tasks
Have 4 Hedge Shears to cut growth blocking your path.

Ask Friends for Hedge Shears.

Explore the Gloom in the search of the mysterious Portal.

Select the new area and disperse the Gloom.

Inspect the Ice Bramble Wall.

Click the Ice Bramble Wall to inspect it.
Reward
"We're getting closer to the Dimensional Portal. I hope we're not too late to help Blaze!"
For completing this quest you will get

1,500 Coins and

30 XP. You can then proceed to the Cold Hearted quest.
What's that over there?
A mysterious Portal has been sighted in the distance, and Blaze the Dragon is missing!
Be sure and bring extra Wooden Clubs to fend off Beasties!
Ad blocker interference detected!
Wikia is a free-to-use site that makes money from advertising. We have a modified experience for viewers using ad blockers

Wikia is not accessible if you've made further modifications. Remove the custom ad blocker rule(s) and the page will load as expected.