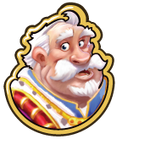 A Spirited New Year is the 5th of 5 missions in the Castleberry Punch Quest. It immediately follows the Brew Love mission.
Quest Text
Let's celebrate this New Year right - with a glass of Castleberry Punch!
Tasks
Quest
Goals

Change your clothes to celebrate the New Year!

Tips: Look for the avatar customization button just above the Market button.

Craft one Keg to hold your punch.

Visit the Duke's Kingdom to celebrate with a glass of Castleberry Punch!

Tips: Click on the Duke's portrait to visit his Kingdom.
Reward
Mmm! Your Castleberry Punch is so good, we should make it year-round!
For completing this mission you will get

1,000 Coins,

20 XP and 1 Castleberry Keg.
Ad blocker interference detected!
Wikia is a free-to-use site that makes money from advertising. We have a modified experience for viewers using ad blockers

Wikia is not accessible if you've made further modifications. Remove the custom ad blocker rule(s) and the page will load as expected.