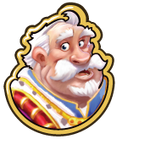 "Get rid of the Pack Leader and his Gloom Wolves. I'd help but, this is your chance to impress the GEEZERS and heroes work alone!"
"A Wolf Pack of One" is quest 6 out of 6 in the GEEZERS Tasks III questline. You get it from The Duke after completing "Hoarders?".
Tasks
Banish 3 Gloom Wolves that appeared in your Kingdom!

Clobber the Gloom Wolves to get rid of them.

Banish the Pack Leader that is attacking your Kingdom.

Careful! The Wolf Pack Leader is stronger than the average Gloom Wolf.
Reward
"You banished the Gloom Wolves so quickly I was only able to warn the people over here, near this bush I was hiding in."
For completing this quest you will get

1,000 Coins and

20 XP. You can then proceed to the A Penny Saved quest in the GEEZERS Tasks IV questline.
Facebook wall post message goes here
Ad blocker interference detected!
Wikia is a free-to-use site that makes money from advertising. We have a modified experience for viewers using ad blockers

Wikia is not accessible if you've made further modifications. Remove the custom ad blocker rule(s) and the page will load as expected.