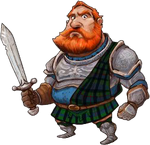 "Now for my favorite Dragon activity - abducting maidens! Dragons love to do it and so must we. Let's prepare."
"Abducting Like a Dragon" is quest 8 of 10 in the A Dragon State of Mind story line. You get it from Tom after completing the "Breathing Like A Dragon" quest.
Tasks
Gather 6 Baking Soda to wash the Dragon Breath taste from your mouth.

Ask Friends for Baking Soda. You can also get this from fishing.

Have 2 Practice Dummies to practice abducting maidens.

Task description here...

Collect 20 Wheat to use as hair on your fair maiden Practice Dummies.

Buy Crops from the Nature section of the Market.
Reward
"I think we are now ready to properly abduct a fair maiden."
For completing this quest you will get

1,750 Coins and

35 XP, as well as 1 Small Energy Potion. You can then proceed to the "Fly Like a Dragon" quest.

A Damsel in Distress?
Tom is showing X how Dragons steal maidens.
Take this reputation and steal a maiden of your own.
Gallery
Ad blocker interference detected!
Wikia is a free-to-use site that makes money from advertising. We have a modified experience for viewers using ad blockers

Wikia is not accessible if you've made further modifications. Remove the custom ad blocker rule(s) and the page will load as expected.