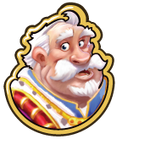 "The GEEZERS want proof that your Kingdom is thriving. Show them that you are an agricultural superpower!"
"Agricultural Superpower" is quest 1 out of 6 in the GEEZERS Tasks II story line. You get it from The Duke after completing "Mr. Whiskerton's Adventure ".
Tasks
Harvest 20 Cabbage to show the bounty of your Kingdom.

Click on Empty Farm Plots to plant Cabbage.

Craft 4 Fertilizer to help your crops grow big and strong.

Craft Fertilizer in the Kitchen.

Feed 60 Animals in your Kingdom to keep them in tip-top shape.

Click on Animals in your Kingdom to feed them.
Reward
"The GEEZERS could learn a thing or two about farming and animal husbandry from you!"
For completing this quest you will get

3,250 Coins and

65 XP. You can then proceed to the Pride on Edifice quest.
Facebook wall post message goes here
Ad blocker interference detected!
Wikia is a free-to-use site that makes money from advertising. We have a modified experience for viewers using ad blockers

Wikia is not accessible if you've made further modifications. Remove the custom ad blocker rule(s) and the page will load as expected.