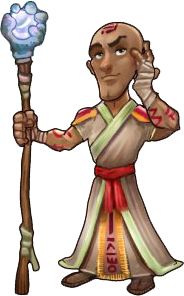 The Wise Wizard
Alastair is the third subject to join your Kingdom. This wizard is long lost in the Gloom and you must rescue him. After you save him, you can place his house anywhere on your Kingdom. He is a quest giver and most of his quests are related to developing your Kingdom, improving your Castle and fighting the Dark One and his minions.
Quote: "Add quote here"
Background
No official background history was disclosed for Alastair, yet. Except that he used to date the Fairy Queen.
Alastair's House

You can collect

450 Coins from Alastair's house every 2 hours. You will receive a

45 Coins bonus, if the house is located on a Courtyard.




Personality
Likes
Dislikes
Quest Series
A Gift For Alastair
No gifts are known.
Ad blocker interference detected!
Wikia is a free-to-use site that makes money from advertising. We have a modified experience for viewers using ad blockers

Wikia is not accessible if you've made further modifications. Remove the custom ad blocker rule(s) and the page will load as expected.