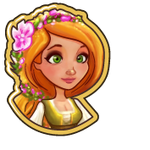 "Let's start by building a Rabbit Hutch for all the Rabbits. I know I have some plans around here somewhere..."
"Animal Shelter" is quest 3 out of 8 in the Hop To It questline. You get it from Yvette after completing "They're Everywhere!".
Tasks
Place Yvette's Rabbit Hutch so you can start building the Bunnies a new home.

Check your Inventory for Yvette's Rabbit Hutch foundation.

Plant 30 Cabbage so the Bunnies have something to eat in their new home.

Click on Empty Plots to plant crops.

Have 8 Design Plans so you can make sure you build the perfect Rabbit Hutch.

Ask friends for Design Plans.
Reward
"Whew, just starting that Rabbit Hutch makes me feel so much better. All these cute bunnies will have a home in no time!"
For completing this quest you will get

4,250 Coins and

85 XP. You can then proceed to the Bait and Switch quest.

House Bunnies
Yvette is building a house for all the extra bunnies in X's Kingdom!
Why don't you come visit and take some Carrots with you!
Ad blocker interference detected!
Wikia is a free-to-use site that makes money from advertising. We have a modified experience for viewers using ad blockers

Wikia is not accessible if you've made further modifications. Remove the custom ad blocker rule(s) and the page will load as expected.