"Let's just stick to non-spicy foods for training this time, shall we? I think my tongue has had quite enough punishment for one day."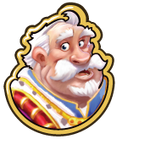 "Anything Goes" is quest 4 of 5 in the
Duke Vs. Food
story line. You get it from
The Duke
after completing the "
It Still Burns!
" quest.
Tasks
Harvest 15 Carrots for the Duke to munch on.

Plant Carrots on Farm Plots and Harvest them when they are ready.

Have 2 Bags of Popcorn.

Bags of Popcorn can be crafted in the Kitchen.

Collect 5 Chicken Meat to add to the smorgasboard.

Tend adult Chickens for a chance to get Chicken Meat.
Reward
"Whew, after all that food, you may have to roll me to the competition!"
For completing this quest you will get

1,750 Coins and

35 XP. You can then proceed to the "Food Fight!" quest in the Duke Vs. Food storyline.

Duke of the Hill
X is helping the Duke prepare for an all-out eat-athon!
Have some Berries to stuff your face and join in on the training.
Gallery
Ad blocker interference detected!
Wikia is a free-to-use site that makes money from advertising. We have a modified experience for viewers using ad blockers

Wikia is not accessible if you've made further modifications. Remove the custom ad blocker rule(s) and the page will load as expected.