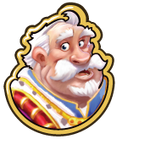 "The GEEZERS are inviting you to join their illustrious organization and design a Royal Crest! We must send in the application."
"Apply Liberally" is quest 1 out of 4 in the Heraldry story line. You get it from The Duke .
Tasks
Tax 1 Houses in your Kingdom to find a witness that can sign with you and the Duke.

Tend Houses in your Kingdom to complete this objective.

Have 3 Beeswax so you can apply your royal mark to the application.

You can find Beeswax by tending Flowers.
Reward
"The GEEZERS are notoriously slow to respond to applications. It took me 24 years to become a member!"
For completing this quest you will get

1,000 Coins and

20 XP. You can then proceed to the The Waiting Game quest.
Help Wanted? Apply Now.
X has applied to be a member of GEEZERS!
Send a letter of recommendation on X's behalf and get a Crystal Shard.
Ad blocker interference detected!
Wikia is a free-to-use site that makes money from advertising. We have a modified experience for viewers using ad blockers

Wikia is not accessible if you've made further modifications. Remove the custom ad blocker rule(s) and the page will load as expected.