"No more shopping to do. I'm BORED. What I need is a BEST FRIEND! But who? Sonja or Yvette?"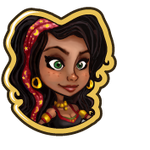 "BFFS" is quest 4 out of 10 in the
Party Girl
story line. You get it from
Izadora
after completing
Shopping Spree
.
Tasks
Quest Image
Task
Skip

Have 2 Bubbly Grog for Sonja. She does like her drink!

Bubbly Grog can be crafted in the Kitchen.

Feed 10 Animals for Yvette.

Buy animals from the Market and feed them.

20 Crowns

Have 5 pretty Fairy Wings to give to the gal pals.

Ask Friends for 5 Fairy Wings. You can also get this from fishing.

Reward
For completing this mission you will get 1,000 Coins and 20 XP.
Aw, Sonja and Yvette are both so sweet! I'll just have to have TWO besties!

Who should be my BFF?!
X hooked Izzy up with her two new Gal Pals, Sonja and Yvette.
Share in the Girl Power with free Coins!
Gallery
Ad blocker interference detected!
Wikia is a free-to-use site that makes money from advertising. We have a modified experience for viewers using ad blockers

Wikia is not accessible if you've made further modifications. Remove the custom ad blocker rule(s) and the page will load as expected.