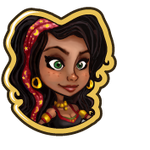 "Rafael might think this is a joke, but there's NO joking when it comes to my hair. Just look at it, it's a MESS! Don't look at me, I'm RUINED!"
"Bad Hair Day" is quest 4 of 6 in the Spa Treatment story line. You get it from Izadora after completing the "Star Struck" quest.
Tasks
Tend 10 flowers and grass in your Kingdom to find Izadora's ribbon.

Click on Flowers and Grass to Tend them.

Mine Rocks 10 times to see if the ribbon got wedged under one of them.

Click on Rocks to Mine them.

Chop 10 Trees to see if any ribbons fall from the branches.

Click on Trees to Chop them.
Reward
"Thanks for helping! Did you find anything?"
For completing this quest you will get

2,000 Coins and

40 XP. This completes the Bad Hair Day mission and you can now start the Color Blind mission.

Bad Hair Day
X is having a bad hair day.
Get some Energy to cheer X up!
Gallery
Ad blocker interference detected!
Wikia is a free-to-use site that makes money from advertising. We have a modified experience for viewers using ad blockers

Wikia is not accessible if you've made further modifications. Remove the custom ad blocker rule(s) and the page will load as expected.