"Wait a bit before checking on the trap. Once the Giant is near, the trap should go off!"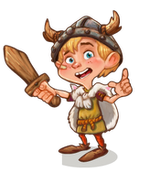 "Baiting the Trap II" is quest 10 out of 10 in the
Bump in the Night
story line. You get it from
Baz
after completing the "
Baiting the Trap I
" quest.
Tasks
Check on the trap once it catches something!

It can take a while before the trap will capture its prey. Once it is ready click on the Giant Trap.
Reward
"I can't help but feel a little disappointed that it wasn't a Giant. Catching this is still pretty cool though!"
For completing this quest you will get

1,750 Coins and

35 XP. This completes the Baiting the Trap II quest and concludes the Bump in the Night story line.
What Did We Catch?
X hopes it's not George, but you never know...
Get some Grapes as a peace offering for the trapped beast.
Gallery
Ad blocker interference detected!
Wikia is a free-to-use site that makes money from advertising. We have a modified experience for viewers using ad blockers

Wikia is not accessible if you've made further modifications. Remove the custom ad blocker rule(s) and the page will load as expected.