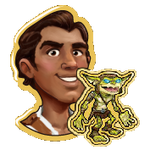 "Adventure has prepared us. We're ready to find Senor Shadow. Navigate the world to find him. Don't use a kangaroo. Once is enough."
"Balloon Ride To Adventure" is mission 10 out of 10 in the Adventure Club story line. You get this mission from Rafael after finishing the Building A Better Beastie mission.
Tasks
Quest

Have 10 Cow Hides to make an Adventure Balloon.

Require help text

Have 30 Ogre's Belches to fill the Balloon

Require help text

Have 15 Piles of Sand for ballast for the Adventure Balloon.

Require help text
Reward
"Alas, from our balloon we can see nothing beneath the Gloom! I wonder how Senor Shadow gets around."
For completing this mission you will get

4,750 Coins ,

95 XP and 1 Golden Oak Tree.

X is going up, up, up!
X has taken to the skies to fight Gloom in a hot air balloon made from Cow Hide!
Grab some Cow Hide to fly high!
Ad blocker interference detected!
Wikia is a free-to-use site that makes money from advertising. We have a modified experience for viewers using ad blockers

Wikia is not accessible if you've made further modifications. Remove the custom ad blocker rule(s) and the page will load as expected.