"This is no ordinary Swamp. The Gloom is stronger here. We shouldn't go in unprepared. Perhaps other Kingdoms know more about this place?"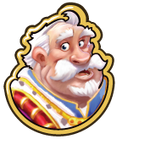 "Be Prepared" is quest 1 out of 4 in the Swamped story line. You get it from
The Duke
.
Tasks
Feed 3 Animals in your Kingdom so they aren't neglected.

Tend ready Animals in your Kingdom to feed them.

Make a path for your retrun trip by clearing 2 nature items.

Task 2 help text goes here

Change your clothes to get ready for venturing into the Swamp!

Look for the Customize Your Avatar button just above the Market button.
Reward
"That's it! We're one step closer to clearing up this foul place!"
For completing this quest you will get

750 Coins and

15 XP. You can then proceed to the Stocking Up quest.

Hope for the best, prepare for the worst!
X is bracing themselves for the evils of the Swamp.
Take this Energy and get to work arming yourself as well!
Ad blocker interference detected!
Wikia is a free-to-use site that makes money from advertising. We have a modified experience for viewers using ad blockers

Wikia is not accessible if you've made further modifications. Remove the custom ad blocker rule(s) and the page will load as expected.