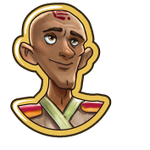 "Build up your supplies so you are ready for Faugrimm's sinister scheme!"
"Be Prepared!" is quest 3 out of 10 in the The Book of Sinister Schemes, Part I story line. You get it from Alastair after completing "Secrets Revealed".
Tasks
Craft 1 Corn Dog. They keep well in case of the worst.

Craft Corn Dogs in the Kitchen after you build a Mill and a Butcher.

Have 7 Sticks of Butter so the Duke will stop hyperventillating.

Craft Butter at the Kitchen. The Duke can't survive without it!

Tend 20 Houses to let people know they need to stock up!

Click on houses to tend them.
Reward
"Your efforts are sure to put Faugrimm in his place. Keep it up! I'm just a few quick spells away from unlocking his evil Book."
For completing this quest you will get

4,250 Coins and

85 XP. You can then proceed to the Danger! Danger! quest.
The Treasure of the Land of Many Lakes
The Duke doesn't know if his Butter supply will last him through Faugrimm's latest scheme!
Help him make enough to last a long time with this Milk.
Ad blocker interference detected!
Wikia is a free-to-use site that makes money from advertising. We have a modified experience for viewers using ad blockers

Wikia is not accessible if you've made further modifications. Remove the custom ad blocker rule(s) and the page will load as expected.