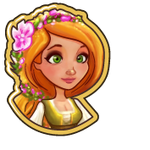 "Oh, I simply must look my best for Rafael tomorrow! Let's make some beauty masks to sleep in!"
"Beautiful Friendship" is quest 4 out of 7 in the Signs of Affection questline. You get it from Yvette after completing "Bedazzle Him".
Tasks
Craft enough Beauty Masks to look your best and fill the Admiration Bar.

This item can be crafted in the Studio.

Visit 6 Neighbors to see if they remember the recipe.

Click on the Neighbor Bar below to visit Neighbors.

Have 10 Pails of Water to rinse afterwards.

Task 3 help text goes here
Reward
"The Beauty Masks are ready. Now I'm certain to look lovely on our adventure to find the lost Hatchet!"
For completing this quest you will get

2,000 Coins and

40 XP. You can then proceed to the Day Trip quest.
Facebook wall post message goes here
Ad blocker interference detected!
Wikia is a free-to-use site that makes money from advertising. We have a modified experience for viewers using ad blockers

Wikia is not accessible if you've made further modifications. Remove the custom ad blocker rule(s) and the page will load as expected.