"One prince wants to wake his love with a kiss. Let's give it a go! I'll just need a sleeping aid."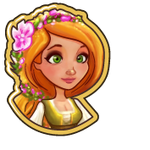 The "Beauty Rest" is a mission you would get from Yvette. You get this mission right after finishing the Flies to Honey mission. This is the 2nd mission from a series of 14 missions from the Lovelorn Quest .
Tasks
Quest Image
Task
Skip

Have 1 Cotton Cloth for Yvette's bed sheets

You can craft this in your Studio

? Crowns
Have 1 Wooden Club to knock Yvette out

This is gonna hurt...

? Crowns

Have 2 Love Letters so Yvette can send them to a Prince

? Crowns
Reward
For completing this mission you will get 1,750 Coins and 35 XP.

"(Yawwn) No prince came by? Oh bother, and now I have a splitting headache!"
Ad blocker interference detected!
Wikia is a free-to-use site that makes money from advertising. We have a modified experience for viewers using ad blockers

Wikia is not accessible if you've made further modifications. Remove the custom ad blocker rule(s) and the page will load as expected.