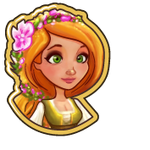 "I just love decorating, especially if it involves gluing lots of shiny things together! Let's decorate Rafael a sparkly Hatchet!"
"Bedazzle Him" is quest 3 out of 7 in the Signs of Affection questline. You get it from Yvette after completing "Sugar Coated".
Tasks
Craft sparkly Hatchets to really get Rafael's attention and fill the Admiration Bar!

This item can be crafted in the Workshop.

Have 6 Aquamarine to make them sparkle!

Mine rocks or tend a Mining Camp to find Aquamarine.

Craft 1 tubes of Glue to decorate the hilts!

Once you have a Kitchen, this item can be crafted in the Studio.
Reward
"Rafael loves the hatchet! He already took it with him into the woods to chop down some trees."
For completing this quest you will get

2,000 Coins and

40 XP. You can then proceed to the Beautiful Friendship quest.
Facebook wall post message goes here
Ad blocker interference detected!
Wikia is a free-to-use site that makes money from advertising. We have a modified experience for viewers using ad blockers

Wikia is not accessible if you've made further modifications. Remove the custom ad blocker rule(s) and the page will load as expected.