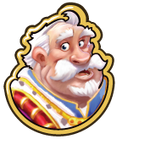 "With the threat of the Gloom looming it's important for Kingdoms to band together. Show the GEEZERS that you are a good ally!"
"Best Friend's Club" is quest 2 out of 6 in the GEEZERS Tasks IV questline. You get it from The Duke after completing "A Penny Saved".
Tasks
Have 7 Longbows so you can fight from a distance.

Ask your friends for Longbows.

Craft 6 Steel Swords to arm your Kingdom in case of attack.

Craft a Steel Sword in a Workshop.

Clobber 8 Beasties in neighboring Kingdoms to help out your Allies.

Visit your neighbors by clicking on their portrait on the Neighbor Bar.
Reward
"You've proven that you're a worthy ally! The GEEZERS cannot doubt your commitment to your Neighbors."
For completing this quest you will get

1,750 Coins and

35 XP. You can then proceed to the ... and Party Every Day! quest.
Facebook wall post message goes here
Ad blocker interference detected!
Wikia is a free-to-use site that makes money from advertising. We have a modified experience for viewers using ad blockers

Wikia is not accessible if you've made further modifications. Remove the custom ad blocker rule(s) and the page will load as expected.