"I found these mysterious building Blueprints in my pantry. We should figure out what they're used for and why they were left in my pantry!"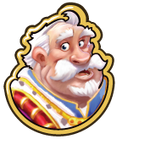 "Best Laid Plans" is quest 1 of 9 in the
Stonehenge
story line. You get it from
The Duke
for some reason.
Tasks
Gather some wood to help support this new building. Chop 3 Trees in your Kingdom.

Click on Trees to chop them.

Mine 2 Rocks in your Kingdom because the plan calls for a lot of Stones.

Click on rocks to mine them.

Feed 3 Cows so they are strong enough to move all those Stones you collect.

Click on Cows when they're ready to feed.
Reward
"Ok, I get that this is a powerful building of some sort, but that still doesn't explain how the plans ended up in MY pantry!"
For completing this quest you will get

1,000 Coins and

20 XP. You can then proceed to the "Gnome Mistake" quest in the Stonehenge storyline.

X Found Plans for Stonehenge!
Faugrimm is already building Stonehenge and we need to catch up.
Take this Red Feather to keep track of your progress.
Gallery
Ad blocker interference detected!
Wikia is a free-to-use site that makes money from advertising. We have a modified experience for viewers using ad blockers

Wikia is not accessible if you've made further modifications. Remove the custom ad blocker rule(s) and the page will load as expected.