"Time to get down to business! Eh, not that kind. Our work on the improvements begins soon."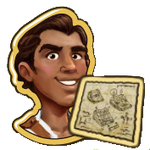 "Better Than Ever" is quest 3 out of 13 in the
The Revenge of Rafael
story line. You get it from Rafael after completing
Gloom Wrought
.
Tasks
Have 5 Blueprints for repairing and improving buildings.

Ask Friends for Blueprints. Not the green ones. You can also get this from fishing.

Collect 15 Stones for foundation repair.

Mine rocks or tend ready Mining Camps to gather Stone.

Sell 30 Potatoes to provide some hearty meals.

Harvest Potatoes from Farm Plots and sell it from your Inventory.
Reward
"I love this plan! Do you think His Gloominess will be happy when he learns about it? Ha ha... me neither."
For completing this quest you will get

4,250 Coins and

85 XP. You can then proceed to the Gather and Prepare quest.
X is relying on Rafael for a restoration plan.
Gold Bricks are for good times, especially when it comes to building stuff!
Ad blocker interference detected!
Wikia is a free-to-use site that makes money from advertising. We have a modified experience for viewers using ad blockers

Wikia is not accessible if you've made further modifications. Remove the custom ad blocker rule(s) and the page will load as expected.