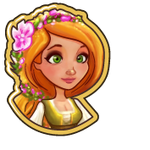 "Let's help Ben fix up those old clothes before he has an unfortunate wardrobe malfunction!"
"Big Fashion" is quest 4 out of 10 in the A Force of Nature questline. You get it from Yvette after completing "Make it Rain".
Tasks
Have 3 Big Patches to repair Ben's clothing.

Ask Friends for Big Patches.

Craft 2 Leather to make a new belt for Ben.

Craft Leather in the Studio.

Collect 8 Wool to pad Ben's shoes.

Click on adult Sheep to collect Wool.
Reward
"With Ben's tattered clothes all fixed up, maybe we can get back to learning some more Nature Magic."
For completing this quest you will get

1,750 Coins and

35 XP. You can then proceed to the A Blossoming Friendship quest.
X is using the patch...
To fix some BIG holes in his Giant friend's clothing.
There's some spare giant thread. It could make a good rope.
Ad blocker interference detected!
Wikia is a free-to-use site that makes money from advertising. We have a modified experience for viewers using ad blockers

Wikia is not accessible if you've made further modifications. Remove the custom ad blocker rule(s) and the page will load as expected.