"We could be searching for my home for days! Weeks even! I've never been on a big trip. What do we need?"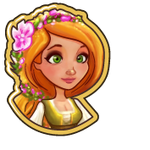 The 1st of 10 missions in the Father's Love quest chain obtained from Yvette.
Prerequisites
You must be level 22 in order to receive this quest.
Tasks
Quest Image
Task
Skip

Change your Character's Outfit

Customize your character to your liking!

? Crowns

Have 2 Chocolate Bars to snack on while you explore for Yvette's Old Farmhouse.

This item can be crafted in your Kitchen!

? Crowns

Feed 2 Animals to Adulthood

See Tips below.

? Crowns
Reward
For completing this mission you will get 2,500 Coins and 50 XP.

| | |
| --- | --- |
| Previous Goal | Next Goal |
| This is the first goal. | Homecoming |

"I'm so excited! The Old Farmhouse is near a river. Don't fall in! I don't have a clothesline!"
Tips
It takes multiple feedings to grow an animal to adulthood. You can also craft or buy Animal Treats to do it faster.
You don't have to raise an animal from childhood to adulthood to complete the above task. If you have an animal that is one feeding away from becoming adult, that one feeding is all you need for it to count as raising one animal to adulthood.
Ad blocker interference detected!
Wikia is a free-to-use site that makes money from advertising. We have a modified experience for viewers using ad blockers

Wikia is not accessible if you've made further modifications. Remove the custom ad blocker rule(s) and the page will load as expected.