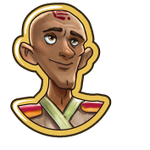 "I'm so close to the answer! Please help me your majesty. We need to figure out what Faugrimm is up to."
"Breaking the Book" is quest 1 out of 10 in the The Book of Sinister Schemes, Part I story line. You get it from Alastair.
Tasks
Have 6 Lenses so Alastair can cover his eyes. The Book has been spitting at him while he reads.

Task 1 help text goes here

Have 20 Wool to clean up after the Book. It's left quite a mess in Alastair's study...

Task 2 help text goes here

Craft 1 Purity Talisman so Alistair is protected from any curses. We don't want a repeat of last time!

Craft Purity Talismans in the Studio.
Reward
"And there! Excellent, now let's see what Faugrimm has been planning..."
For completing this quest you will get

4,250 Coins and

85 XP. You can then proceed to the Secrets Revealed quest.

Alastair has been wrestling with a book!
Faugrimm's Book of Sinister Schemes that is!
Help Alastair deliver the final blow and you'll walk away with some XP instead of a black eye.
Ad blocker interference detected!
Wikia is a free-to-use site that makes money from advertising. We have a modified experience for viewers using ad blockers

Wikia is not accessible if you've made further modifications. Remove the custom ad blocker rule(s) and the page will load as expected.