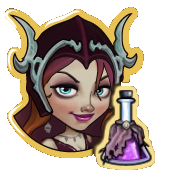 "Sniff, Sniff, do you think you could get some of my favorite thing's to make me feel better?"
"Breaking the Ice" is quest 1 out of 9 in the Bachelorette quest line. You get this quest from Hazel .
Tasks
Quest

Goals

Have 10 Rat Tails.

Get this item by banishing Gloom Rats.

Get 10 fresh Ogre's Belches.

Get this item by clearing Grass and Shrubs.

Have 5 Ice Chunks.
Reward
"Ah, nothing like the smell of Ogre's Belch! I feel a little better now."
For completing this quest you will get

750 Coins and

15 XP, as well as 1 Frozen Cow. You would also be able to start the Warming Up quest.
Ad blocker interference detected!
Wikia is a free-to-use site that makes money from advertising. We have a modified experience for viewers using ad blockers

Wikia is not accessible if you've made further modifications. Remove the custom ad blocker rule(s) and the page will load as expected.