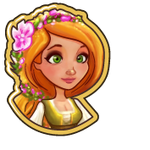 "Look how nervous Quinn is! It looks like we need to help him break the ice with Genevieve, literally."
"Breaking the Ice" is quest 4 out of 13 in the To Woo a Maiden questline. You get it from Yvette after completing "Prep and Pep".
Tasks
Have 3 Liquid Courage to help Quinn boost his self esteem.

Ask friends for Liquid Courage.

Craft 3 Ice Picks of Charm to help Quinn break the ice with Genevieve.

Ice Picks of Charms can be crafted in the Studio.

Remove 3 Ice Rocks from Amouria.

Craft Ice Picks of Charm to break Ice Rocks on Amouria.
Reward
"He has broken the ice! Quinn and Genevieve are going to be SO cute together! I can't wait!"
For completing this quest you will get

1,500 Coins and

30 XP. You can then proceed to the The Friend Zone quest.
Icebreaker!
Quinn finally broke the ice with Genevieve!
Quick! Pick up some of those Ice Chunks before they melt!
Ad blocker interference detected!
Wikia is a free-to-use site that makes money from advertising. We have a modified experience for viewers using ad blockers

Wikia is not accessible if you've made further modifications. Remove the custom ad blocker rule(s) and the page will load as expected.