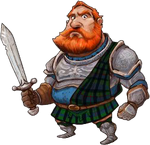 "It is time for you to learn how to breathe fire. And I warn you! Breathing fire is not easy!"
"Breathing Like A Dragon" is quest 7 of 10 in the A Dragon State of Mind story line. You get it from Tom after completing the "Reciting Like A Dragon" quest.
Tasks
Consume 3 Bubbly Grogs to give your breath a kick.

This item can be crafted in your Kitchen. Use it from your Inventory.

Have 10 Flaxseed Oil. Maybe it's flammable?

Flaxseed Oil can be crafter in your Kitchen.

Have 35 Wood Logs to burn with your new fire breath.

Collect Wood Logs by chopping trees or tending Logging Camps.
Reward
"While you cannot literally breathe fire, your breath certainly smells like you can! That should do for now."
For completing this quest you will get

1,750 Coins and

35 XP. You can then proceed to the "Abducting Like a Dragon" quest.
X needs a breath mint
X has been developing their dragon breath.
With this Ogre's Belch you can develop your dragon breath too.
Gallery
Ad blocker interference detected!
Wikia is a free-to-use site that makes money from advertising. We have a modified experience for viewers using ad blockers

Wikia is not accessible if you've made further modifications. Remove the custom ad blocker rule(s) and the page will load as expected.