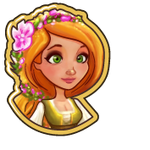 "Quinn and Genevieve are so cute! We should help him rebuild the Bridge of Trust so he can pass over Bitterness Breach."
"Bridge of Trust" is quest 11 out of 13 in the To Woo a Maiden questline. You get it from Yvette after completing "Sensible Scents".
Tasks
Mine 3 times in Amouria for stone to support the Bridge of Trust.

Click on rocks in Amouria to mine them.

Craft 1 Hammer to help build the Bridge of Trust.

Hammers can be crafted in the Workshop.

Rebuild the Bridge of Trust in Amouria to get across Bitterness Breach.

Click on the Bridge of Trust in Amouria to see what materials are needed to rebuild it.
Reward
"With the Bridge of Trust in place, we'll get Quinn to Genevieve in no time!"
For completing this quest you will get

1,750 Coins and

35 XP, as well as 1 Bridge of Trust. You can then proceed to the In the Name of Love quest.
Facebook wall post message goes here
Ad blocker interference detected!
Wikia is a free-to-use site that makes money from advertising. We have a modified experience for viewers using ad blockers

Wikia is not accessible if you've made further modifications. Remove the custom ad blocker rule(s) and the page will load as expected.