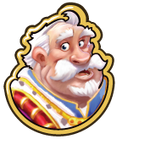 "The Remotely Definable Dairy Barn seems to be working, but I'd feel better if we reinforced it. I mean, how long can it hold together with all those Cows inside?"
"Bringing Up the House" is quest 7 out of 9 in the The Relatively Dimensional Dairy Barn story line. You get it from The Duke after completing "Cow-Catcher".
Tasks
Harvest 7 Grapes to help calm the Duke.

Click on an Empty Farm Plot to plant Grapes.

Craft 5 Ropes to help keep the Dairy Barn together.

Make Rope in your Workshop.

Craft 4 Hard Boiled Eggs to keep up your Energy!

Craft Hard Boiled Eggs in your Kitchen.
Reward
"Is Giovanni absolutely sure this won't explode?"
For completing this quest you will get

1,500 Coins and

30 XP. You can then proceed to the Happy Cows? quest.

Barn Raising Again?
X has reinforced their Dairy Barn!
There is plenty of Wood left over! Click to receive a Wood Log!
Ad blocker interference detected!
Wikia is a free-to-use site that makes money from advertising. We have a modified experience for viewers using ad blockers

Wikia is not accessible if you've made further modifications. Remove the custom ad blocker rule(s) and the page will load as expected.