"Speaking of beauty, can you believe that folks in your Kingdom have never even SEEN beauty products? I could make a fortune!"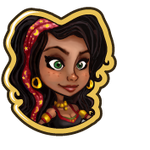 "Brush With Danger" is quest 3 out of 11 in
The Diva
story line. You get it from
Izadora
after completing
Happy Medium
.
Tasks
Gather 15 Beeswax to give Izzy a Beehive Hairdo.

Clear Flowers to gather Beeswax. This is the base for all good beauty products.

Shiny hair is sexy hair. Acquire 15 Mink Oils.

Mink Oil comes from minks. Don't tell, this is my secret ingredient.

Harvest 45 Oats for facial scrub.

Plant and harvest 45 Oats.
Reward
"My hair looked FABULOUS… until the bees decided they wanted their wax back!"
For completing this quest you will get

4,250 Coins and

85 XP. You can then proceed to the "Scents and Sensibility" quest.

You look like you could use a makeover!
With Izzy's help, X is primped and ready to prowl.
Go from geek to chique with some XP.
Gallery
Ad blocker interference detected!
Wikia is a free-to-use site that makes money from advertising. We have a modified experience for viewers using ad blockers

Wikia is not accessible if you've made further modifications. Remove the custom ad blocker rule(s) and the page will load as expected.