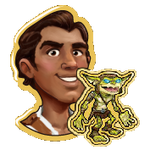 "Adventurers must face things that go bump in the night. But we're fresh out, so we must improvise."
"Building A Better Beastie" is mission 9 out of 10 in the Adventure Club story line. You get this mission from Rafael after finishing the Polar Bear In Sheeps Clothing mission.
Tasks
Quest

Buy 5 Dead Trees to use as frames for our Beastie.

Buy Dead Trees from the Nature section of the Market.

Have 15 Gloom Wolf Hair to put on the frame.

Banish Gloom Wolves to collect Gloom Wolf Hair.

Have 10 Fairy Wings. We can make them look scary later.

Ask Friends for Fairy Wings. You can also get this from fishing.
Reward
"Yes! It remids me of the time I saved a gnome from a terrifying beast. Turns out it was his mother. Was awkward to say the least."
For completing this mission you will get

3,250 Coins and

65 XP. You would also be able to start the Balloon Ride To Adventure mission.
Wolf Hair is so useful for creating a fake monster on short notice!
X face what goes bump in the night and wants to share the reward!
Don't get scared -- collect some Wolf Hair to overcome your own fears!
Ad blocker interference detected!
Wikia is a free-to-use site that makes money from advertising. We have a modified experience for viewers using ad blockers

Wikia is not accessible if you've made further modifications. Remove the custom ad blocker rule(s) and the page will load as expected.