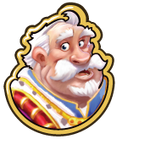 "Not many people know that the GEEZERS have a sweet tooth. They have a soft spot for Kingdoms filled with delicious treats!"
"Buttering Up" is quest 3 out of 6 in the GEEZERS Tasks II story line. You get it from The Duke after completing "Pride on Edifice ".
Tasks
Harvest 25 Sugar Cane to make some sweet treats.

Plant and harvest Sugar Cane on Farm Plots.

Craft 3 Saucy Tarts to satisfy the GEEZERS insatiable appetite for tarts.

Craft Saucy Tarts in the Kitchen.

Have 15 Eggs for baking. The GEEZERS love baked desserts!

Collect Eggs by tending Adult Chickens.
Reward
"I forgot to mention, there are only 2 GEEZERS on the Exaulted Council. I took care of the extra Saucy Tarts you made myself."
For completing this quest you will get

3,250 Coins and

65 XP. This will unlock new colors for your Royal Crest, and you can then proceed to the Happy and They Know It! quest.

Order up!
X is cooking up a storm! Come join the feast!
Don't forget the butter. Everything is better with a Stick of Butter!
Ad blocker interference detected!
Wikia is a free-to-use site that makes money from advertising. We have a modified experience for viewers using ad blockers

Wikia is not accessible if you've made further modifications. Remove the custom ad blocker rule(s) and the page will load as expected.