"The Leprechaun seems a little too shaken to talk. Let's help him calm down a bit."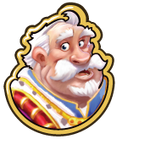 "Calming Treat" is quest 3 out of 12 in the
Over The Rainbow
story line in honor of St. Patty's Day. You get it from
Sullivan
the Leprechaun after completing the "
To Catch A Leprechaun
" quest.
Tasks
Tax 2 houses in your Kingdom. Seeing gold has a soothing effect on Leprechauns!

Click on Houses to tax them.

Have 3 Berries to give him as a calming snack.

Harvest Berries by clicking on debris.
Reward
"Hopefully the Leprechaun will be ready to talk now. Let's see what the little guy has to say!"
For completing this quest you will get

1,000 Coins and

20 XP. You can then proceed to the "Rainbow Engineer" quest in the Over The Rainbow storyline. You can also start the "Life O' the Party " quest in the "It's Party Time! " storyline.

You've been picked!
X is crafting with Berries and has extra to share with you!
Pick some Berries and get cooking!
Gallery
Ad blocker interference detected!
Wikia is a free-to-use site that makes money from advertising. We have a modified experience for viewers using ad blockers

Wikia is not accessible if you've made further modifications. Remove the custom ad blocker rule(s) and the page will load as expected.