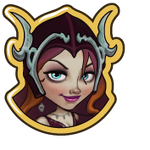 "*Sniffle* I really shouldn't be alone right now - I'm too upset about Faugrimm! I'll just stay in your Kingdom... you won't even notice I'm here."
"Castle Crasher" is quest 1 out of 8 in the Hazel's Heartbreak questline. You get it from Hazel. The quest was released on August 8th 2012.
Tasks
Feed 3 Cows in your Kingdom. It might help take her mind off of things.

Click on Cows to feed them.

Tend 2 Flowers in your Kingdom to check on them. Hazel has been stomping around.

Click on Flowers to tend them.

Have a Spellbook of Spirit Magic. We need to make Hazel comfortable at a time like this.

Click the Spellbook button to open your Spellbook.
Reward
"Thanks for letting me stay in your Kingdom. I guess it will have to do while I... get over... F-F-Faugrimm! *Sob*"
For completing this quest you will get

2,000 Coins and

40 XP. You can then proceed to the Ice meeting you! quest.
Facebook wall post message goes here
Ad blocker interference detected!
Wikia is a free-to-use site that makes money from advertising. We have a modified experience for viewers using ad blockers

Wikia is not accessible if you've made further modifications. Remove the custom ad blocker rule(s) and the page will load as expected.