Here you can find all of the Castleville wiki updates and relative links!
Newest Update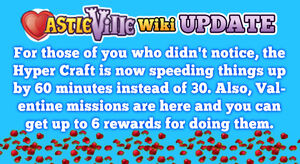 The first mission of the Valentine day quest line can be found here: Who's Coming?
All Previous Updates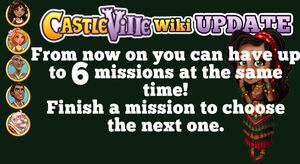 All missions can be found here: Goals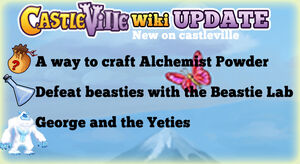 Information about Alchemist Powder can be found here: Alchemist Powder.
Alchemist Powder can be crafted in the BEastie Lab for 7 animal bones, 5 goblin ears, 4 mystery ingredients.
Information about Beastie Lab can be found here: Beastie Lab.
All of George's quests can be found here: George Quests.
Information about George can be found here: George.
Information about the Yeties can be found here: Yeti.
Ad blocker interference detected!
Wikia is a free-to-use site that makes money from advertising. We have a modified experience for viewers using ad blockers

Wikia is not accessible if you've made further modifications. Remove the custom ad blocker rule(s) and the page will load as expected.