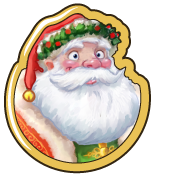 Cheer and Present Danger
is quest 6 of 10 from the
Save Kris Kringle
mission you get from
Kris Kringle
. You get this Quest after finishing
Sacked Out
.
Tasks
Quest
Goals

Use 1 Super Clobber to banish those Thieves.

Hint: Super Clobbers deal 4 damage to a Beastie with a single swing. Craft in the Workshop or buy from the Market.

Winter Gloom Thieves are trying to steal your presents! Banish 2 Winter Gloom Thieves.

Hint: Click Winter Gloom Thieves to clobber them.

Have 3 Unicorn Sparkle. It acts are a natural repellant to the Gloom.

Hint: Ask Friends for Unicorn Sparkle. You can also get this from fishing.
Reward
For completing this mission you will get 1000 coins and 20 XP and 2 Snowflake Banners. You would also be able to start the Over River, Through Wood mission.
Ad blocker interference detected!
Wikia is a free-to-use site that makes money from advertising. We have a modified experience for viewers using ad blockers

Wikia is not accessible if you've made further modifications. Remove the custom ad blocker rule(s) and the page will load as expected.