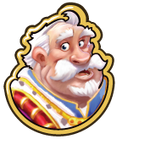 "This Egg must be from the mythical giant Chicken I've been investigating ever since I was a boy! Let's repair the stand so we can crack it open and make omelettes for everyone!"
"Chicken or the Egg?" is quest 1 out of 10 in the Eggstraordinary Evidence story line. You get it from The Duke.
Tasks
Chop 5 Trees. Wood gathered can be used to reinforce the Egg Stand base.

Click on a Tree to chop it.

Mine 3 Rocks. Stone can be used to keep the Egg Stand stable.

Click on a Rock to mine it.

Place the Egg Stand from your Inventory.

Go in your Inventory and click on Decor to find the Egg Stand.
Reward
"That stand is perfect! Now, where did I put my mythical giant Chicken Egg cracker...?"
For completing this quest you will get

1,000 Coins and

20 XP. You can then proceed to the Egging Him On quest.

X is about to have a big breakfast!
And it will feature the biggest egg omelette. Ever.
Make your own breakfast with this Chicken Egg.
Ad blocker interference detected!
Wikia is a free-to-use site that makes money from advertising. We have a modified experience for viewers using ad blockers

Wikia is not accessible if you've made further modifications. Remove the custom ad blocker rule(s) and the page will load as expected.