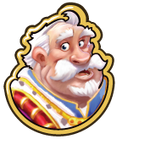 "The Icy Totem must be the source of Hazel's power. If we destroy it, we will no longer have to fear... or freeze!"
"Chill Out" is quest 7 out of 7 which you get from The Duke during the "Icy Witch" quest line.
Tasks
Quest Image
Task
Skip

Craft 1 Totem Bane to destroy Hazel's power.

This item can be crafted after you build a Kitchen.

Destroy the Witch's final Totem of Ice along with her power!

Have the Totem Bane made before clicking the Icy Totem to destroy it.

Reward
For completing this mission you will get 1,000 Coins and 20 XP. In this goal you get 1 Witch's Hat as a reward.

| | |
| --- | --- |
| Previous Goal | Next Goal |
| Frost Bites | This is the last goal for now. Congratulations! |
"Hooray! Your Kingdom is safer... and warmer! But what will we do with our wayward witch?"

X has the Ice Witch cornered!
X found the source of Hazel's power!
Grab a free Crystal Shard to help you find what you seek.
Ad blocker interference detected!
Wikia is a free-to-use site that makes money from advertising. We have a modified experience for viewers using ad blockers

Wikia is not accessible if you've made further modifications. Remove the custom ad blocker rule(s) and the page will load as expected.