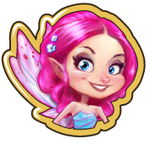 Clap if you Believe
is the 1st of 10 missions in the
A Fairy's Tale
Quest.
Quest Text
We need to help this little Fairy! Let's try to revive her before it's too late!
Tasks
Quest
Goals

Have 6 Down Feathers to make a tiny bed

Tips: Feed adult Geese to collect Down Feathers.

Have 15 Pails of Water to splash on the fairy's face

Tips: Fish in the pond to find Pails of Water

Have 10 Ogre Belches for smelling salts

Tips: Clear grass and mushrooms to find Ogre Belches
Reward
Good, she's awake. But she's going to need something to eat to get her strength back
For completing this mission you will get

1,000 Coins and

20 XP.You will be able to start the Great for Spooning Quest
Ad blocker interference detected!
Wikia is a free-to-use site that makes money from advertising. We have a modified experience for viewers using ad blockers

Wikia is not accessible if you've made further modifications. Remove the custom ad blocker rule(s) and the page will load as expected.