"Mia always says that a clean Kitchen is a happy one. I bet she thinks the same about Kingdoms!"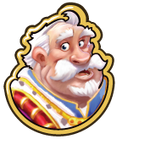 "Clean Sweep" is quest 1 out of 4 in the Food Courtship story line. You get it from
The Duke
.
Tasks
Clear or tend 5 unwanted nature items.

Click on nature items like Grass or Tree Stumps to clear them. Buy some in the Market if you're out!

Unclutter! Sell 10 items.

Sell items in your Kingdom or from your Inventory.

Collect taxes from 4 houses to fund the welcome celebration!
Reward
"The Kingdom looks great! But we should do more to make sure that Mia wants to stay!"
For completing this quest you will get

750 Coins and

15 XP. You can then proceed to the Feel the Love quest.
X is cleaning up the Kingdom.
Get a Pail of Water to do some cleaning of your own.
Ad blocker interference detected!
Wikia is a free-to-use site that makes money from advertising. We have a modified experience for viewers using ad blockers

Wikia is not accessible if you've made further modifications. Remove the custom ad blocker rule(s) and the page will load as expected.