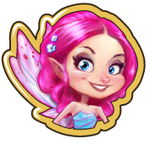 "We need to clear a way to the Contraption so we can free Blaze and stop Faugrimm!"
"Cloning Around" is quest 5 out of 12 in the Battle for the Portal story line. You get it from Sylphie after completing "Blaze Through".
Tasks
Have 6 Warning Horns to alert others of Faugrimm's presence.

Ask Friends for Warning Horns.

Banish 2 Gloom Goblins so you can rescue the trapped dragon.

Click on Beasties to Banish them.

Craft 2 Hard Boiled Eggs to keep up your strength.

Task 3 help text goes here
Reward
"The coast is clear! Blaze, can you hear us? Let's get him out of this Contraption."
For completing this quest you will get

1,500 Coins and

30 XP. You can then proceed to the Glyph Busters quest.
Foiled again!
Faugrimm is up to no good, as usual.
Finance your efforts to stop him with some coins!
Ad blocker interference detected!
Wikia is a free-to-use site that makes money from advertising. We have a modified experience for viewers using ad blockers

Wikia is not accessible if you've made further modifications. Remove the custom ad blocker rule(s) and the page will load as expected.