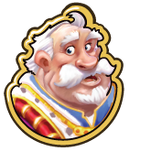 The Baby Duke Bar isn'r the supreme snack yet! In my dream, we smeared that with butter and Honey and wrapped it in Cabbage leaf!
"Coat of Honey" is quest 2 out of 5 in the Baby Duke Bar quest series.
Tasks
Quest
Goals
Harvest 10 Cabbage to make the Baby Duke Bar a healthy snack!
Craft 2 Sticks of Butter, the Duke's favorite ingredient.
Have 15 Honey to make the Baby Duke Bar sweet.
Reward
I know it looks delicious, but you can't eat it yet! We're just getting started on the Baby Duke Bar!
For completing this mission you will get

1,500 Coins and

30 XP.You will also be able to start Wrapped in Chocolate quest.
Ad blocker interference detected!
Wikia is a free-to-use site that makes money from advertising. We have a modified experience for viewers using ad blockers

Wikia is not accessible if you've made further modifications. Remove the custom ad blocker rule(s) and the page will load as expected.