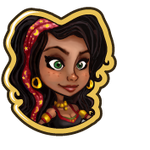 "If we make posters, it will help people recognize my ribbon. Make SURE you use the right color though!"
"Color Blind" is quest 5 of 6 in the Spa Treatment story line. You get it from Izadora after completing the "Bad Hair Day" quest.
Tasks
Have 5 Peacock Feathers to draw an image of Izzy's ribbon on the poster.

Task info here...

Have 5 Bottles of Ink to use with the Peacock Feathers.

Task info here...

Visit 10 Friends to ask if they have seen Izadora's ribbon.

Visit Friends through the Friend Bar at the bottom of the screen.
Reward
"Now we've just gotta wait to see if anyone responds!"
For completing this quest you will get

2,500 Coins and

50 XP. This completes the Color Blind mission and you can now start the A New Do mission.
Where For Art Thou, Hair Ribbon?
X is looking for Izadora's lost hair ribbon. What a tragedy!
Get a Milk Bottle to advertise the missing ribbon.
Gallery
Ad blocker interference detected!
Wikia is a free-to-use site that makes money from advertising. We have a modified experience for viewers using ad blockers

Wikia is not accessible if you've made further modifications. Remove the custom ad blocker rule(s) and the page will load as expected.