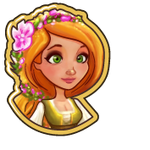 The "Color Girl" is a mission you would get from Yvette. You get this mission right after finishing Career Woman mission. This is the 11th Mission from a Series of 14 Missions in the Lovelorn Quest.
Tasks
Quest Image
Task
Skip

Buy 5 Peacocks for Yvette's new show!

You can buy these in the Market.

? Crowns
Have 2 Dye Kits so Yvette can make everything colorful!

This item can be crafted in your Studio!

? Crowns

Have 8 Fairy Wings to really add some flair to her outfits!

Post this to your wall so your friends can send them to you!

? Crowns
Reward
For completing this mission you will get 2,500 Coins and 50 XP.

"My fans loved all the colorful feathers!"
Ad blocker interference detected!
Wikia is a free-to-use site that makes money from advertising. We have a modified experience for viewers using ad blockers

Wikia is not accessible if you've made further modifications. Remove the custom ad blocker rule(s) and the page will load as expected.