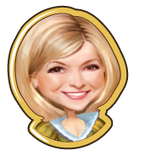 "The arrival of baby animals makes spring a truly special time of the year. Let's take care of two of my Easter favorites, Chickens and Rabbits!"
"Cooped Up" is quest 9 out of 12 in the Martha story line. You get it from Martha Stewart after completing the "Scrambling Around" quest.
Tasks
Feed 10 Chickens

Click on Chickens to feed them.

Harvest 20 Carrots for the bunnies.

Click on empty Farm Plots to plant Carrots.

Craft the Bunny Pants Prize from the Pavilion. While we are feeding bunnies we should look like one

Craft rewards in the Pavilion.
Reward
"What's the best part about feeding Chickens? Collecting more Eggs to decorate!"
For completing this quest you will get

500 Coins and

10 XP, as well as 1 Araucana Chicken. You can then proceed to the Egging On quest.

Hip Hoppity Hooray!
X had fun feeding all the fluffy bunnies!
There were a few carrots left over. Take one!
Ad blocker interference detected!
Wikia is a free-to-use site that makes money from advertising. We have a modified experience for viewers using ad blockers

Wikia is not accessible if you've made further modifications. Remove the custom ad blocker rule(s) and the page will load as expected.